May their shadows never shrink: Wole Soyinka and the Oxford Professorship of Poetry
'May their shadows never shrink' is a book about the campaign to elect Wole Soyinka as Professor of Poetry at Oxford.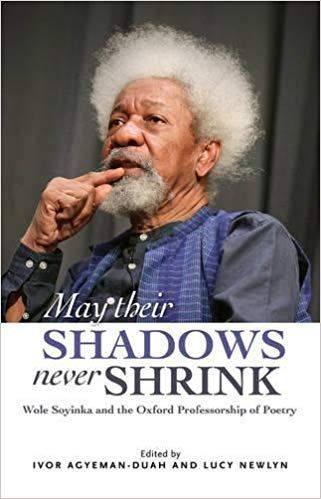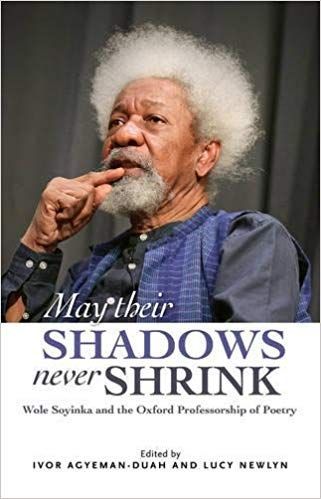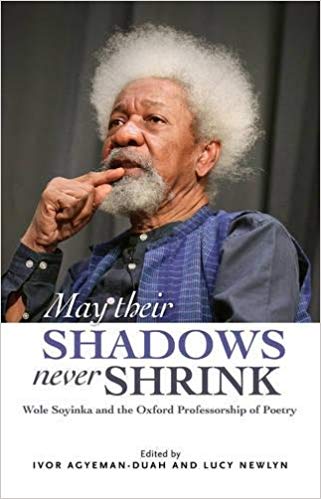 Background
Oxford's Professor of Poetry is not appointed by a University committee, but elected by the University's 'Congregation', which consists of all its alumni, plus members of staff. This makes it a unique post, which attracts public speculation and media interest.
In the campaign to elect the Professor of Poetry in 2015, I acted as personal representative for the Nigerian writer, Nobel Laureate Wole Soyinka.
You can read about the campaign here
There was some controversy during the campaign over the handling of Soyinka's candidacy by the British media
You can read an article I subsequently published in the THES, addressing this controversy and urging electoral reform, here.
---
Together with Ivor Agyeman Duah, I edited a book about the campaign, May Their Shadows Never Shrink: Wole Soyinka and the Oxford Professorship of Poetry (Ayebia Clarke, 2016).
Jacket-blurb:
"This important book documents stimulating and engaging reflections and thoughts from international writers and commentators who collectively validate and establish Soyinka as more than deserving of the honor of the Oxford Professorship of Poetry. The coeditors Ivor Agyeman-Duah and Lucy Newlyn campaigned for the election of Soyinka and provide insightful analyses of the campaign while arguing for electoral reform. This is a must-read for anyone interested in the future of world literature and inclusiveness."
---
I wrote a poem in the aftermath of the election (won by British poet Simon Armitage) which we published in our book:
The Repetition
(To be sung to the tune of Leonard Rosselson's 'World turned upside down')
Oxford 2015, and the year is almost done --
But old battles rage; there's a grand prize to be won.
A strong Yorkshire poet, swollen up with local fame
Will fend off the foreigners, in Little England's name.
Six full years have passed since the fateful time
When a West Indian was dragged through muck and slime
By his British rival, keen and hungry for the prize,
Who sullied poetry with her mean tricks and lies.
Six full years have passed, but the years are not so long
That friends easily forget how she did a grievous wrong
To the Nobel laureate, who resigned from the game
Once the press had damaged him and defaced his name.
Now that Wole Soyinka, our champion true and brave,
Takes on the challenge, he has much to do and save.
Smarting at injustice, smarting for his friend,
He enters the lists in a contest that has no end.
"I come in peace", he says. "I hide my grudge
For the shame your country laid on the man you chose to judge.
He is the best there is. No dishonour worse –
If you've got it in for me, then I'll still stay the course."
"Where's your statement, then, and how do you dare
To break the rules we make, which are so clear and fair?"
"I need no statement. My deeds are eloquent—
If you seek evidence, look at how my life is spent."
A cowardly braggart now, in Britannia's name
Switches sides publicly, using his Lordly fame
To scoff at the African, keep the best man down;
And the bullies rally round, keen to defend their own.
"You are too old", they say, "too grand, too wise –
Only our countrymen are fit to win this global prize.
You show no interest in coming here.
Stay in your world; you already have your share."
They form a strong wall, to keep the black man out,
They give forth a hunting cry, a loud and loyal shout:
"Come vote with us, my lads -- of strangers we've had enough.
We value homespun worth; not all that foreign stuff."
The votes are counted, the tournament is through.
The winner's name, announced, cheers hearts brave and true:
Stalwart local hearts, proud of Britannia's name –
They've kept the best man out, to their eternal shame.
"I go in peace", he says. "I hide my grudge
For the shame your country laid on the man you chose to judge.
He's still the best there is. No dishonour worse –
You have it in for us, but at least I stayed the course."
Lucy Newlyn
---
Statement in Support of Nomination
We ask you to vote for Wole Soyinka (Nobel Laureate, 1986) in the coming election for Professor of Poetry at Oxford.
We believe that Soyinka would be an outstanding successor to Geoffrey Hill – someone capable of inspiring us with his published work, his vision of what literature is, and his way of talking about poetry. It would be especially invigorating to have a writer in this post who is able to bring an African and global perspective to the study and understanding of poetry in Oxford. We would also appreciate very deeply Soyinka's ability to talk about poetry as a practising poet, dramatist, novelist, memoirist, and human rights activist.
Professor Soyinka has taught at Cornell, Emory, and the University of Lagos. He has been awarded Honorary Doctorates by the Universities of Leeds, Harvard and Princeton. He has received the Benson Medal from the Royal Society of Literature, the Anisfield-Wolf Book Award for Lifetime Achievement, and the 2014 International Humanist Award. On becoming the first African writer to be awarded the Nobel Prize for Literature, the Swedish Academy praised Soyinka for his ability "to synthesise a very rich heritage from his own country with literary legacies and traditions of European culture", for his "genuine and impressive creativity as an artist, a master of language", and for his commitment to exploring "problems of general and deep significance for man, modern or ancient".
In addition to his literary credentials, Wole Soyinka has a track record in campaigning for human rights that puts him in a unique category. He was a powerful voice in the struggle for Nigeria's independence from colonial rule, and has been a thorn in the side of a series of Nigerian dictators. Despite considerable risk to his personal safety, he has consistently spoken out against corruption and the abuse of power. Under the government of General Gowon he suffered two years solitary confinement. A later military ruler, General Sani Abacha, charged him with treason in 1997 and sentenced him to death in absentia. Soyinka's passion for justice has never dimmed. He recently joined his fellow Nigerians in street protests against the removal of fuel subsidies; and he has played a prominent role in the "bring back our girls" campaign for the government to rescue the 219 school children abducted from Chibok by Boko Haram insurgents.
Given his lifetime of campaigning, it is a great testament to the quality and impact of Soyinka's writings that he is known first and foremost as an author, not an activist. Amongst Soyinka's best known works, which are read world-wide, are his volumes of poetry: Idanre and Other Poems, Poems from Prison, A Shuttle in the Crypt, and Mandela's Earth. His most famous plays include The Lion and the Jewel and Death and The King's Horseman; and he has written two novels, The Interpreter and Season of Anomy, as well as five highly acclaimed autobiographical works: Aké, Isara, Ibadan, You Must Set off at Dawn, and The Man Died: Prison Notes. Wole Soyinka's writings provide a vital and compelling insight into personal, social and political relations with global relevance. His work taps into a host of different mythic, poetic, and dramatic traditions – African and European – and dynamically re-routes the connections between them. As an essayist, the depth, range, and erudition of his thinking about culture have emerged in volumes such as Art, Dialogue, and Outrage: Essays on Literature and Culture, The Burden of Memory, and The Muse of Forgiveness. In 2004, he was invited to deliver the BBC Reith Lectures, which he called A Climate of Fear.
Wole Soyinka's world stature is incontestable. As the first African elected to this post, his appointment would be an immense historical milestone for Oxford University. He is an inspirational speaker, whose fascinating lectures would attract large, attentive, international audiences. Please join us in voting for him as our next Professor of Poetry.
---
Selected Endorsements for Wole Soyinka as Professor of Poetry at Oxford
"Oxford would be fortunate to have Professor Soyinka as its professor of poetry. And not because of the 'worthy' reasons of diversity and all, but simply because he is one of the best there is today, a poet and thinker who knows both how the world actually works and how the world should work."
Chimamanda Ngozi Adichie, novelist
"Individuals who will stand up for the rule of law against its foes, and who will take on the might of an oppressive State, are not only admirable - they are essential. Creating something beautiful to fight the ugliest of human rights abuses and pursuing justice through poetry is truly remarkable. The world is a better place for people like Wole Soyinka and there can be few people who would bring more to the role of Oxford Poetry Professor."
Clare Algar, chief executive of Reprieve
"Wole Soyinka will bring a whole continent to Oxford and will inspire poets and the public alike with his urgent concerns for humanity as well as the highest artistic achievement. I think he is absolutely indispensable here."
Carmen Bugan, poet
"A wonderful poet and a deserved Nobel Laureate, Wole Soyinka has also been a courageous fighter for human rights over several decades. Pursued and repeatedly imprisoned by dictators who feared him, his shining language of resistance has never dimmed and his sense of justice never faltered. Wole Soyinka's appointment would bring honour to the University of Oxford."
Shami Chakrabarti, Director of Liberty
"I have followed Soyinka's work and writing ever since the Nigerian civil war. As a former member of the Social Sciences Faculty at Oxford, but also as the foundation Dean of Law and Social Sciences at SOAS, University of London, as an Africanist and as a writer, may I say how much Soyinka means to people I meet in all my travels, including in China, where young people see his work as standing up for the same things they cherish."
Stephen Chan O.B.E., Ph.D., Professor of World Politics, School of Oriental & African Studies, University of London
'More than fifty years ago, Wole Soyinka, in his poem "Telephone Conversation", portrayed with ferocious humour the dark ironies of a black man trying to rent a room from a white landlady. Hopefully now, in a better time, Oxford will welcome and learn from him.'
Amit Chaudhuri, Professor of English and novelist
"Soyinka's poetry – like that of Brecht, Neruda and Darwish – carries its liberating charge in the abundance, wit, craft and lyricism, really in the rhythm and the beauty, of the lines themselves. He is a political poet in that he asserts the value of human life and revolts against the man-made circumstances which reduce it; and he does both those things by force of poetry."
David Constantine, poet and scholar
"Soyinka's corpus calls to mind the root of the word 'poet' in the Greek poiein, 'to make' or, as he puts it in the prefatory note to his early poem 'Idanre', the capacity of poetry to 'erase known worlds', boldly breaking apart to create the new. In his poems, mythology and modernity, tradition and experiment, ethereality and earthliness collide. Soyinka's technical skill and range, intellectual bravery, and commitment to justice are unmatched by any poet of his generation. It would be a real privilege for the University of Oxford to have him as the next Professor of Poetry."
Natalya Din-Kariuki, Rhodes Scholar, University of Oxford
"Wole Soyinka was one of the most brilliant young writers discovered by the Royal Court Theatre in the 1950s when he was invited to become a member of the original "Writers' Group." In 1958 the Royal Court produced Soyinka's "The Lion and the Jewel". William Gaskill, who directed the play, wrote at that time "I've never met anyone White or Black who has that kind of command of language." Nearly 60 years later: the Royal Court is the most important theatre for new writing in the world and Wole Soyinka is one of the great poets of our times. We are proud to support Wole Soyinka as the Oxford Professor of Poetry."
Elyse Dodgson, International Director, Royal Court Theatre
"I wholeheartedly endorse Wole Soyinka's candidacy for the chair of Professor of Poetry at Oxford University. I've treasured him as one of the greatest living writers since my college days in the early seventies. Soyinka is not only the most youthful and energetic octogenarian I know, but also a true man of world letters, especially in the English-speaking world. It would be a shame indeed, should Oxford University forego this unique opportunity to be honored by Wole Soyinka's physical presence and poetic wisdom."
Rita Dove (former Poet Laureate of the United States)
"When Yale University conferred an honorary Doctor of Letters degree on Wole Soyinka in 1980, I was asked to write the formal citation, which reads as follows: "Poet and playwright, in a language metaphorical and lyrical, you have redefined modern tragedy through a synthesis of Yoruba and Western tragic forms. In the face of certain persecution, you boldly accepted the role of spokesman against tyranny in all its pernicious forms. Yours is a constant cry against racism and fascism, and for justice and equality without regard for your personal safety. Undaunted force for freedom, master of the verbal arts, we at Yale salute you with the degree of Doctor of Letters.
To those words, I would only add that Soyinka is one of the very few people in the world who could have just as easily been awarded the Nobel Prize for Peace as the Nobel Prize for Literature. And through his remarkably rich and ample corpus of books of poetry and drama, created over more than five decades, he has consistently pushed the limits of the English language to register an African metaphysical world view. As Penelope Gilliatt wrote in 1965 of his great play, "The Road," "Every decade or so, it seems to fall to a non-English dramatist to belt new energy into the English tongue….Wole Soyinka has done for our napping language what brigand dramatists from Ireland have done for centuries: booted it awake, rifled its pockets and scattered the loot into the middle of next week." I can think of no better way to describe Soyinka's magnificent poetic diction, and I can think of no candidate more worthy of the Professorship of Poetry at the University of Oxford than this truly great writer, whose works will be read for centuries to come."
Henry Louis Gates, Jr., The Alphonse Fletcher University Professor, Harvard University
"It's wonderful news that Wole Soyinka has agreed to stand for Professor of Poetry. He will bring an African and a world perspective to a post that has tended to be the preserve of (mainly Oxbridge educated) British and American poets and critics. He would remind the insular British that a non-English poet does not simply mean a Scottish, Irish or American one. That would be good for Oxford and for Britain."
Gabriel Josipovici, novelist and critic
"Wole Soyinka is a poet and activist of world standing who has faced persecution and suffering with surpassing dignity. He is that rare thing: a great writer whose life and eloquence have come together in a valiant struggle for rights and freedom. His election would grace the University of Oxford."
Ken Macdonald QC, Warden of Wadham College, Oxford
"Wole Soyinka is a giant of modern literature - and a man whose life and writing has proved how vitally poetry matters. He was imprisoned during the Biafran War, but continued to write, smuggling his poems out for publication. He would be a huge inspiration for the students and staff of Oxford and for poets and poetry across the country."
Robert Macfarlane, scholar and writer
"The Nobel-Prizewinning Wole Soyinka is more than a fit successor to Geoffrey Hill, to my mind he is the ideal and necessary choice. His poetry, plays and other writings speak from a world and era that are potently still a vital part of our ongoing postcolonial condition. We need to hear his engaged voice and Oxford needs to appoint him, for all that he has to tell us, and for its own standing in the world."
Andrew McNeillie, poet and literary editor
"Wole Soyinka is quite simply one of the great names of contemporary literature. Oxford would be mad not to endorse his nomination as its Professor of Poetry. In my long experience of his work and of the man himself I have absolutely no doubt that he would be conscientious in the role, illuminating in his lectures, and link the university in unexpectedly exciting ways with many corners of the world. When I ran the Africa Centre in London he supported our work and in subsequent years when I was Director of Literature at Arts Council England and then at the British Council I always found Wole added vitality and intellectual stamina to any event in which he agreed to participate. I hope Oxford will not look a gift horse in the mouth.'
Alastair Niven, formerly Director-General of the Africa Centre in London, Director of Literature at the Arts Council, and Director of Literature at the British Council.
"Wole Soyinka is that rare thing; a master both of words and action. A concerned humanist in his politics and a committed activist in his writing, and vice versa. His writing alone more than qualifies him for the post, in addition to which he is the most wonderful speaker and original thinker. I can't imagine a more fitting or overdue appointment. How very fortunate Oxford would be to have him."
Tamsin Oglesby, playwright
"I wish to lend wholeheartedly my support to Wole Soyinka as Oxford Professor of Poetry. His presence would profoundly enrich the poetic and intellectual life of the university. He is one of the greatest literary figures of the age, distinguished and playful, whose grasp of the modern, classical, and African world would enable him to bring something very special to his professorship, his lectures, and his interaction with students. It cannot be said too strongly that this is a unique opportunity to bring a genuine legend of contemporary literature into your world. Looking back years later, it would give you cause to congratulate yourselves on a truly inspired choice."
Ben Okri, poet and novelist
The executive committee of Oxford University Student Union has voted to support Wole Soyinka in the upcoming elections for the position of Professor of Poetry at Oxford University. His poetry and writing has inspired many students, including the executive committee of OUSU. Not only is he an outstanding Nobel-prize winning author, his political activism and bravery are admirable and have been influential to students across the world. We greatly admire his work and encourage alumni to vote for Wole Soyinka.
OUSU Executive Committee
"Wole Soyinka would make a unique Oxford Professor of Poetry"
Tom Paulin. Poet and Critic
" Wole Soyinka's poetry, whether in the earliest verse or in the most recent Samarkand and Other Markets I Have Known captures the private instincts while his well-known activism on various fronts reflect the public ones. Yet whatever lyricism we find in his writing is precisely what informs his political sensibilities, for the ethical choices he has made throughout his life have always demonstrated an ultimately aesthetic sensibility. Soyinka is with good reason considered one of the greats of world literature. A son of Africa he may be, but he is both by choice and inclination a gift to the world. He would make an electrifying and very influential Oxford Professor of Poetry."
Ato Quayson, Professor of English, University of Toronto
"As a poet, playwright, director, actor, novelist, and essayist, Soyinka has been eloquent and passionate in denouncing the injustices of both foreign and internal colonialism in Africa. His courage has repeatedly landed him in jail, with periods of solitary confinement. He has remained stubbornly, even heroically faithful not only to his vision of social justice but also to his often difficult, compressed, uncompromising art. A dazzling poet who is also a thunderous lecturer who has lived an extraordinary life of struggle, he will bring to the Professorship an exceptionally strong combination of gifts, skills, and knowledge."
Jahan Ramazani, University Professor and Edgar F. Shannon Professor of English, University of Virginia
"I am delighted that Wole Soyinka has allowed his name to be put forward for this post and that he has not issued some "statement" about poetry to flatter the hearts of some presumed electorate. The choice, as he knows, is literary, not political, and like his own tiger, he does not "shout his tigritude" but acts. He will be a wonderful professor. The suggestion made recently by a television presenter that his age is against him is exactly wrong."
Michael Schmidt, poet, author, scholar and publisher
"Wole Soyinka is a poet of witness in his homeland whose moral, ethical and questioning mindset has guided his poetry and other writing. Such a voice, vigorous, lyrical and purposeful, actively generates hope and would greatly enhance the Oxford Professor of Poetry platform".
Gerard Smyth, Irish poet, poetry editor of The Irish Times and member of Ireland's Academy of Arts and Letters, Aosdana.
"It gives me the greatest pleasure to support Wole Soyinka's nomination for Professor of Poetry: he is a massive cultural presence, and it would be wonderful if Oxford could provide him with a platform to speak in this way."
Rowan Williams, poet and former Archbishop of Canterbury
"Soyinka's poetry has performed a continual battle against the closures of the mind, wresting us into new forms of awareness and understanding. To encounter the compelling charge of his language, the rare insights of his wisdom, and the resonating power of his knowledge, would be an unsurpassable experience for our university."
Robert JC Young, Julius Silver Professor of English and Comparative Literature, New York University (formerly Professor of English and Critical Theory, Oxford University)
"If Wole Soyinka were to take up the position of Professor of Poetry at Oxford University it would be a great thing for the university, and a great thing for this country. Every time he visits our country he is given a great welcome. We love him dearly, and to have him sharing his wisdom and his art at such a prestigious university would be an inspiration to all of us. Ignore the bad mouthing, and let's honour one of the world's greatest living writers.
In times like these when we are spending so much time and energy looking inwards and being nationalistic, Wole Soyinka will help us reconnect with the world and be more outward looking. We really need him."
Benjamin Zephaniah, poet