Paradise Lost and the Romantic Reader
Was Milton on the side of the angels or the devils? Was he republican or anti-republican, feminist or misogynist? Did he value innocence or experience?
Lucy Newlyn shows how the Romantic reader responds, in complex and often paradoxical ways, to multiple ambiguities inherent in the very language of Paradise Lost. She examines ambivalent allusions to Satan and God, in responses to the French Revolution (Coleridge and Wordsworth), in studies of the origin of evil (Godwin, Blake, the Shelleys), in accounts of the creative imagination; and looks at how Eve pervades representations of female sexuality (Byron and Keats). The book culminates in a chapter on Blake's Milton, and prose writers such as De Quincey, Lamb, Wollstonecraft, and Hazlitt are also considered.
Milton emerges as a poet of indeterminacy, not an authority figure, whose concern with the problematic issues of revolution and religion, sexuality and selfhood, make his writing relevant and accessible.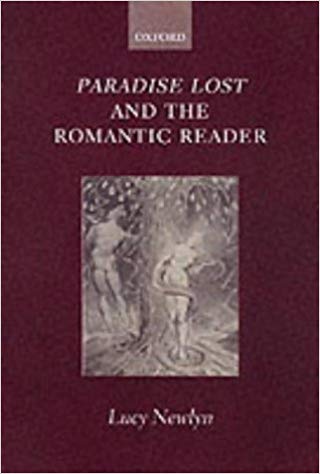 Paradise Lost and the Romantic Reader (Oxford University Press, 1993)
Reviews
"Newlyn everywhere describes admirably what she calls at one point (with reference to Wordsworth) the 'pleasurable complexity' of the reading experience." J.R. Watson. Byron Journal '94
"There have been numerous books and articles on the subject, but Lucy Newlyn's is certainly the best. Its great virtue is that it combines a reading of Paradise Lost itself with treatments of Milton-influenced Romantic texts. Newlyn's principal argument is simple, beautifully articulated, amply supported through close analysis and wholly convincing. The structure is as elegant as the argument." (Jonathan Bate, Review of English Studies)
"One of the great strengths of the book is that its study of the minutiae of literary borrowing is grounded in the broader phenomenon of Milton's cultural influence." (Romanticism)
"Exceptional work...Dr Newlyn has read everything, and apparently said everything, that might have any bearing on this engrossing topic." (English Studies Vol 75 no 6)
"Rather than confine herself to an author to chapter analysis Dr Newlyn instead chooses a thematic approach to assess the influence of Paradise Lost on a wide range of Romantic texts. This makes for an ongoing comparative analysis." (Bunyan Studies Number 6)