My life as a teacher and writer
An account of my career as an academic and poet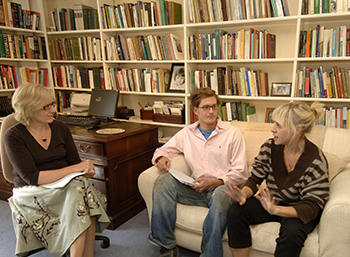 I was the last child at infant school to learn how to read. But when I was given by my parents a small red notebook to write in, I was set for life. I scribbled and scribbled -- stories, poems, whatever came to mind. I can remember having access to my parents' typewriter and laboriously typing a series of stories with one finger: this became my first anthology, accompanied by drawings.
Creative writing was of course encouraged at primary and secondary schools, and I still have some of the poems dating back to those days. But when I went up to Oxford in 1975, everything changed. The Oxford English syllabus doesn't contain a Creative Writing component: its emphasis is on analytical rigour. From then on, my objectives and methods became strictly academic. I never wrote a single poem between 1975 and 1999, a fact which now astonishes me. My reverence for poets, in addition to the academic framework of my life, inhibited me from exploring this dimension of creativity.
From an early age I had aspired to be an academic, so it was easy to choose a profession. Very soon after graduating in 1978, I started as an Oxford tutor. I spent many enjoyable hours at various different colleges, traipsing from one to the other with books in carrier-bags and giving tutorials in dimly lit rooms. All this helped to offset the solitude of research, and led in due course to a Fellowship at Teddy Hall.
I found immense fulfilment working within the Oxford tutorial system for nearly forty years, in a system which lays great emphasis on writing weekly essays under considerable pressure. My own development as a writer intertwined with that of my students. The give-and-take of the tutorial fosters collaborative creativity, as well as close attention to how ideas are formulated and expressed. Here is my poem of homage to a system which I cherish deeply, and to which I owe an immense debt of gratitude:
The tutorial
When all else fails, when
other joys are stifled or blocked,
there's this. There is always this.
Not a road and a railway
but a passage and a bridge;
not the lines of travel, but the junction.
Not coordinates and a map
but a path and a missing turn;
not arrival, but direction.
Not a whetstone and a knife
but a basket and its weave;
not combat, but connection.
Not luck and the solitary search
but a step and a link,
not the catch, but the cognition.
Not an argument and its conclusion
but a craft and its pattern,
not invention but elucidation.
Not a quiz and its solution
but a query, a suggestion;
not repartee but conversation.
Not a method and a programme
but a habit and a way of life;
not duty, but vocation.
Not pilgrims and a guide
but companions on a road;
not instruction but communication.
Not closure, but perfect timing:
a voice on the stair, a knock on the door –
something nearing completion.
---
Experimenting with different kinds of writing
Family life became more demanding (as well as more enriching) following the birth of my daughter Emma in 1995. Up till that point, academic research, intertwined with teaching, was the centre of my existence.
My D.Phil thesis turned with relative ease into my first OUP book, Coleridge, Wordsworth and the Language of Allusion (1986). Here I tracked the evolving friendship of two great poets over the course of a decade, following the twists and turns of their collaboration through close reading of echoes, allusions, and interconnections.
When I wrote my second book, Paradise Lost and the Romantic Reader, I entered into debates with influential critics on the subject of Romantic writers' engagement with their great precursor Milton. The book is quite highly specialised in its analysis of allusive language. I tried to make it useful for students and teachers through close readings of texts and a clear thematic structure.
In my third OUP book, Reading, Writing and Romanticism (2000), I integrated a historical approach to readers and reading practices into a psychological theory of reading, so my terminology was more advanced, and my method more sophisticated. I think of this book as representing my 'turn to theory': it's the book of mine I least like, even though it is the one that has been most recognised in the academy.
---
The implications of becoming a poet
For most of my academic career I was a writer of scholarly articles and books about Romantic poetry; it was only after 2000 that I turned to writing poems myself. Becoming a poet transformed the way I approached my research, but also the way in which I taught.
I published Ginnel in 2005, after five years of apprenticeship in the craft of poetry. Initially I had been prompted to write poems because of the death of my older sister Sally; but had learned with practice to deal with other topics and to be more disciplined with form. Ginnel is as much about the inerconnecting passageways of my mind (and the communities to which I belong) as it is about 'the places of childhood and childhood as a place.' Writing it was a therapeutic and integrative process.
Becoming a poet was helped by a collaborative teaching experiment involving workshops at Teddy Hall, which culminated in the two volumes Synergies: Creative Writing in Academic Practice. These are partly anthologies of student writing, partly reflections on teaching practice. There was a great deal of creative energy around in those days; much of it came out of collaborative work with fellow-poet Jenny Lewis, who taught me a great deal. The students seemed to thrive in this creative atmosphere, and I learnt a lot from them too.
---
The importance of collaboration
Some of my most enjoyable activities as a writer have involved collaboration with fellow poets and academics. I've also greatly enjoyed bringing writers together, in college and further afield, to form new communities.
Compiling and editing the college anthology Chatter of Choughs during 2001, I discovered the pleasure of encouraging new creative work, editing submissions, and working alongside the illustrator, Geoffrey Bourne-Taylor, to produce a popular book. Several Oxford-based poets chipped in with original contributions -- so the anthology had a lively mix of established and apprentice talent.
In making a second edition of the anthology, I tapped into a different community, connecting with a number of Cornish writers and holding a competition in Cornish schools for the best chough poem. The finished book was one of the most labour-intensive pieces of work in my entire career -- and one of the least noticed! But I'm proud of it.
Together with Guy Cuthbertson, I enjoyed another collaborative venture in 2005, this time bringing together a community of poets to articulate their creative debt to Edward Thomas. The conference we held in Teddy Hall was attended by numerous distinguished poets from Oxford and further afield. In co-editing the resulting book, Branch Lines: Edward Thomas and Contemporary Poetry, my critical judgements became sharper, and my understanding of creative community strengthened.
I've found all of my community based activities immensely rewarding. These led to my role as Literary Editor of the Oxford Magazine, which involved reading a wide variety of submissions from the university community and beyond. More recently, I've also found fulfilment in creating and running the Hall Writers' Forum: this brings together a scattered online community, enabling informal discussion as well as close feedback on writers' creative endeavours.
---
Writing accessibly -- and making a scholarly edition
Becoming a published poet has had a lasting effect on my approach to writing (and teaching) in its various forms. In my introduction to The Cambridge Companion to Coleridge, I pitched my academic writing for an audience of second year undergraduates, avoiding specialised terminology. Writing for Essays in Criticism has also been formative, leading to a greater awareness of the essay as a form. As an editor of the writings of Edward Thomas since 2003, I have had to learn a whole new set of research skills, as well as to discipline my critical voice. Editing is a much more selfless activity than writing as a critic: evaluative judgements are not admissible; one subordinates one's own creativity to that of the writer one is serving.
After becoming a poet, my teaching priorities changed. I encouraged my students to come to writing workshops, and to think of themselves primarily as writers. I don't much like the term 'Creative Writing', which suggests that some writing is more creative than others. Writing an essay is, essentially, a creative act, and my tutorials placed a strong emphasis on the craft of writing.
Here is my homage to the workshop as a medium which I value just as highly as the tutorial:
The workshop
We come looking for nothing more
than what we find, listening in turn
to each other read.
There's something of magic ritual
in the handing-out of pages,
the agreement of an order.
There's something of reverence
in our stillness, heads bent
over the writing, our attention.
If there's a break in concentration,
it's only a pause for reflection,
before the comments -
like a long draught to one who thirsts,
or a walk on the moors in the high wind
to one who's trapped and forsaken.
The whole week turns on this.
---
Reaching a non-specialist audience
After many years editing the prose of Edward Thomas --- a project that continues -- writing my literary biography of William and Dorothy Wordsworth felt like a homecoming. This book, a close study of the literary partnership of the famous siblings, is aimed at a wide audience including non-specialist readers. It brings together my personal voice, my pedagogical skills, my creativity, and my critical expertise. It's also a self-help book, of sorts -- exploring the therapeutic effects of walking, talking, remembering, grieving, collaborating.
OUP persuaded me to write a blog for my new book, and I enjoyed the challenge of producing something very short. I still have much to learn before I succeed in writing what is called in the trade a 'Trade book', but hopefully I'm on the right path.
---
A second collection of poems
My second collection, Earth's Almanac, was published in 2015. It brings together the poems I wrote about my sister's death, along with poems about the natural world and Cornwall. The book can be read consecutively, as a piece of autobiographical writing. It also explores many of the themes that I looked at more academically when I was working on my book about the Wordsworths.
---
Retirement, and writing a memoir
I retired from my post at Teddy Hall in 2016, and greatly miss the daily stimulus of the tutorial system. But I now have the time to write all day, and this freedom has resulted in a large body of poetry -- most of it submitted to the Hall Writers' Forum, some to be published in forthcoming collections. I now think of myself as a full-time poet, even though I continue intermittently with the ongoing OUP edition of Edward Thomas's prose.
Retirement was a shock. It caused me to look back on my life over the previous fifteen years, during which I had been struggling with Bipolar Affective Disorder. Because of the stigma of this condition I had never talked about it openly, or written about it -- but in 2017 it suddenly seemed imperative to do so. Encouraged by fellow Hall Writers on the Forum, I wrote (very rapidly) a fifteen year memoir, intertwining poetry with prose. Diary of a Bipolar Explorer (Signal, 2018) was my first experience of writing in this medium, but I had been teaching Life Writing for many years, at undergraduate and graduate levels -- this informed the way I set about my task. The project has connected me with a new community, and brought with it some new opportunities to give writing workshops that have an explicitly therapeutic function.
Two of the collections I have written recently have been especially integrative, bringing together my academic and poetic selves. Vital Stream is a collection of 135 sonnets about the Wordsworth Circle in 1802. In writing this book, I was able to re-approach terrain I knew very well, asking questions and pursuing hypotheses in a way that is not possible in a rigorous literary biography. This collection was published in November 2019 by Carcanet in association with the Wordsworth Trust. In The Craft of Poetry: A Primer in Verse I have set out to produce a teaching guide for beginners which is entirely constructed out of my own poems. There is need for such a book, as students struggle to understand the techniques and forms of poetry, and don't always relish studying these in the strictly academic format of available textbooks. My book contains over a hundred poems illustrating figures, forms, techniques and concepts. This will be published in Spring 2021 by Yale university Press.