Five Sonnets from Vital Stream
Five sonnets from my collection 'Vital Stream' (Carcanet, 2019), which tells the story of the Wordsworth circle in 1802 as William's marriage to Mary Hutchinson approached.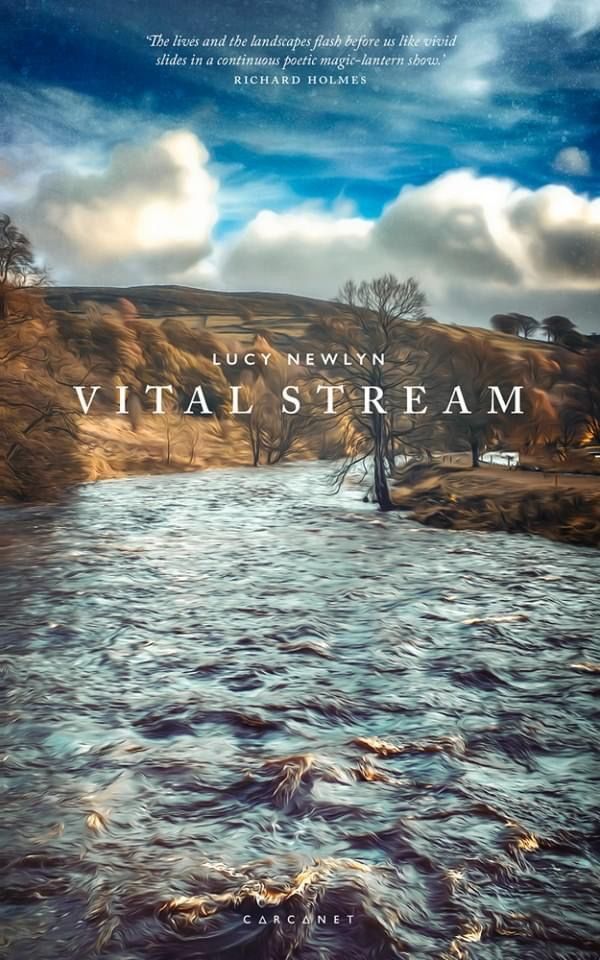 With Wordsworth so much in the public eye lately, I thought I'd share 5 of the 135 sonnets I recently published as a sequence, Vital Stream, with Carcanet. I began writing the sequence very suddenly, prompted by an extraordinary entry in Dorothy Wordsworth's Grasmere Journal, describing the morning of William's marriage to Mary Hutchinson. It reads as follows:
'William had parted from me up stairs. I gave him the ring – with how deep a blessing! I took it from my forefinger where I had worn it all the night before – he slipped it again onto my finger and blessed me fervently…I kept myself as quiet as I could, but when I saw the two men running up the walk, coming to tell me it was over, I could stand it no longer, & threw myself on the bed where I lay in stillness, neither hearing nor seeing any thing, till Sara came upstairs to me & said, 'they are coming.''
The 5 sonnets which follow are scattered across the sequence, which tells the story of the Wordsworth circle in 1802 as WW's marriage approached and was finalised. They are all responses to the haunting journal entry quoted above, part of which is blacked out very heavily in the manuscript notebook.
A purchase before leaving
The ring is Belgian: eighteen-carat gold.
I wonder, did he buy it while alone,
Or was his sister there to try the cold
Thing on, half-willing it to be her own?
Imagine as they stood there side by side
(A shuttered shop in Rue de la Tête d'Or)
And played the parts of nervous groom and bride,
Their only witness a French jeweller:
How tense she was, how tenderly
He held her wrist and drew the circle down
Her middle finger – then, how gingerly
She took it off, remembering that soon
(Though far away, and in another land)
It would fit snugly, on a different hand.
2.    A ceremony, 4th October
Who does the ring belong to on the day?
She's writing this at home a few weeks later:
This is her journal; here she has her say –
But is she a reliable narrator?
'Fervently' he blessed the thin gold ring
But watch him as he gives it back again!
Now, even now, the morning of the wedding,
He's at it still – the same old teasing game:
Still granting restitution, still pretending
That their lives will always stay the same.
How firmly she removes the blessèd thing,
How cruelly he gives it back again.
What brinkmanship the very day he's wed
And takes another woman to his bed!
3.    The promise
'Flesh of my flesh' he'd said, 'bone of my bone.'
And so she'd worn it like a talisman,
Never to part, never to lose her home,
Not even when the next new phase began.
Now, even now, it passes to and fro
Between 'dear sister' and much dearer brother.
See how she wills herself to let it go,
See how it reclaims her – as his lover?
'With all my worldly goods I thee endow'.
So the ring pledges as it's lightly passed
From hand to hand – both then and now,
As if still undecided to the last.
You'd almost think it had life of its own.
Flesh of her flesh indeed – bone of her bone.
4.   Fugue
No, she cannot watch. Her courage falters.
Over again, long after they are wed,
Her mind turns round, as with the might of waters.
She sees herself there – prostrate on the bed;
This is the dreaded hour, the blank hiatus –
The ring unseen, the vows unheard, unsaid,
No memory but strangeness. Nothing alters:
No sights or sounds, she might as well be dead.
And now, returning warmth and light and feeling.
They're home, they're married, it's all over.
But still her life's in shock, her senses reeling.
Once reunited, was she carried by her brother
Across that other threshold?  No one knows:
Onward like a stream the journal flows.
5.    The manuscript
As if to break a silence that they chose
The firmly blacked-out lines give her away.
The full force of her feeling wrought those
Words, expressing all she needed then to say.
Who was it tried to hide her rite of passage,
Protecting someone from its truth and pain?
Only infra-red could pierce the message,
Revealing this strange ritual again.
The ink is iron-based. No later hand
Has tampered with her thoughts. Then was it she,
As she looked back, who shrank from their sharp sting, and
Scored them through in black so thoroughly, –
That no one after all these years might tell
What she had felt that day and knew full well?