The Scotchman's Stone, on the River Greta
A poem in response to John Sell Cotman's painting, ''The Scotchman's Stone, on the River Greta'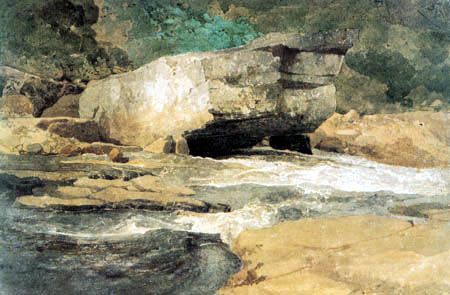 The Scotchman's Stone, on the River Greta
If it were still, if it were only still,
water's the element
in which you'd find again
if you could
his hard-won composure.
Stand and stare at rock,
and light on rock:
seventy tons of rock, carried
down river by the prodigious power
of churning water.
The shadow under that jut of rock
and in its deep dark cleft
are where you'd see his mood
if he had not allowed the light
to give you those crisp clear facets of grey,
those grainy crevices,
that tilting plane of chalky white.
Even from here, the rock seems
animate, like a giant toad.
Don't let its black eyes squint at you.