Newlands Valley
From a sequence about Constable's paintings of Borrowdale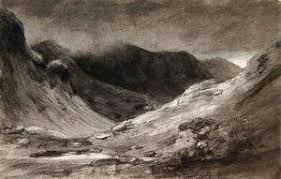 Newlands Valley
Two hours he walked from Keswick to stand
in the cold, staring at rain.
Dale Head with its great bent back crouched
like a beast, black under breathing mist.
The beck dropped unseen in the gloom
to turn and twist.
Nothing but scratch of pencil, wash of grey,
and dark storm-clouds pressing downward.
No need for chalk – the bare paper
was bright enough to patch sky and scree.
Silver shimmered on the nearby slope.
Distance glimmered on the far right.
The boulder stood, and stared in the wet.
The wildness gripped.