A Sestina for Sally
An imagined walk from Veryan to Portloe with my older sister Sally, who died in 1999 and never saw this beautiful place.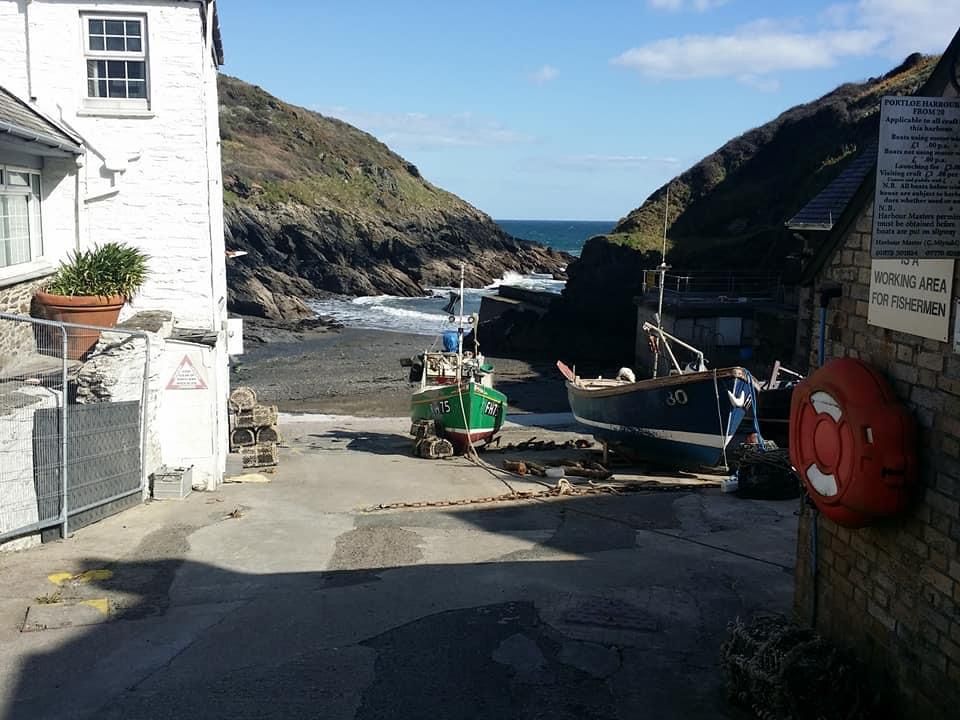 I'd like to take a walk with you from here to Portloe,
Show you the lobster-pots crowding the little cove
And climb the beetling cliff to look out over the sea.
You'd admire the yellow house perched opposite,
You'd love the waves coming into the harbour.
You'd laugh, your hair blown back in the breeze.
You'd relish the quickness, freshness of the breeze.
You'd admire the steep climbing village of Portloe,
You'd love the boats nesting in the harbour,
Finding peace in the stones, the quiet cove.
You'd want to live in the yellow house opposite
And you'd fantasise about the incoming sea.
There are no words for absence, listening to the sea,
Watching the gulls turn in the sharp sea-breeze.
There are no frictions, clashes, opposites
In the deserted nestling village of Portloe.
All is solved or resolved in the little tranquil cove,
Which used to be a humming thriving harbour.
I wish you were alive to see the harbour,
To watch the fishing-boats come in from off the sea,
Edging up the stones into the quiet cove,
Gulls calling your name in the salt sea-breeze,
Houses climbing the hill at the back of Portloe,
With nothing but open sea to gaze at, opposite.
Where have you gone, you who were my opposite,
So far from this imagined walk to the harbour,
Through fields and over stiles to Portloe?
I hear your voice in the swing of the sea,
In the cry of gulls as they turn in the breeze.
You are somewhere near in the stony cove.
Are you hearing my words for you in this cove,
Or are they gone with the wind, my opposite?
I watch for you in the gulls that turn in the breeze,
I listen for you in the boats clinking in the harbour.
I yearn for you in the swing of the open sea,
And the waves that rock the fishing-boats at Portloe.
You are with me always as I walk in the breeze to Portloe.
But I never showed you the lobster-pots or the sea;
The cove, the yellow house opposite the harbour.